Victims of Another War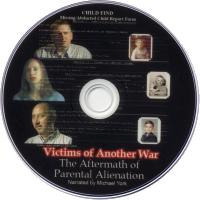 Thanks to the sponsorship of the US-based Donald B. Reynolds Foundation, PACT has produced a 30-minute documentary based on interviews of adults who have been forcibly separated from one of their parents when they were children. Some have re-established contact with their estranged parents; others did not; but all of them have been deeply and irrevocably scarred by their experience.
The strength of this documentary is to demonstrate in ways that no words can, the evils of parental abduction. "Victims of Another War" has been the subject of several peer reviews, including the American Journal of Family Therapy.
Visit the Victims of Another War Website.
Purchase a copy of the DVD in the PACT Shop.