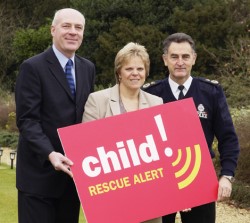 Bob and Sally Dowler, the parents of missing school girl, Millie Dowler, with Chief Constable Denis O'Connor at the launch of Child Rescue Alert in Surrey.
In November 2002, the Sussex Police launched their own version of AMBER, which they called Child Rescue Alert. It was soon rolled out nationally.
An Alert is activated only when it is feared that the abducted child (under 16 years old) is in imminent danger of serious harm or death and that there is sufficient information to enable the public to assist the olice in finding the child. To be successful the Alert relies on close partnership with the media.
Child Rescue Alert has the added value of sending a strong message that crimes against children will not go unpunished and that the police, broadcasters, NGOs, and the public will work together to apprehend predators.